I'm so busy at the moment, it's just crazy. Not only have I nearly finished the shawl, but I've also nearly finished the coming home cardigan for little babe. Good job really as I've less than seven weeks to the due date!
I've also now got three more patterns ready to test, this time it's crochet patterns, and I've made three different styles:
The "Hamish" sandal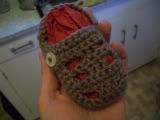 The "Imogen" Shoe
and The "Oliver" Shoe
If you would be interested in testing any of them let me know, they are all crochet, and are available either with US or British directions.
As well as all of this knitting and crochet activity, I've been adding to the range of products on the site. We've now got a far bigger selection of knitting accessories, including stitch
counters
, stitch holders and cable needles. We've also now got flexible
Tunisian
crochet hooks, if you want to try something a bit different.